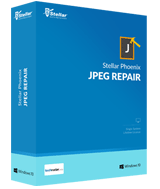 Stellar Phoenix


JPEG REPAIR Software

A JPEG file is stored as a combination of two parts. The first part (known as the image metadata) contains information about the image (such as EXIF date, time, and shooting info) along with an embedded thumbnail image, whereas the second part (or the scan segment) comprises the actual image data. At the time of creation, it is more likely that a JPEG file will not get corrupted or damaged.
However, the risk of damage substantially increases as these files are moved or copied to other devices. In addition, there are several other reasons for Photo corruption. If corruption is within the thumbnail part, the image thumbnail will fail to open. In case the corruption has reached the image data part, the main image will get damaged.
Causes for Jpg file corruption
Virus or malware infection in the photos
Missing/corrupted/broken header in the files
Interruption in between Read/write operation while transferring photos to another device or PC
Improper ejection of the memory card or improper shut down of system
Usage of camera in low battery may also be a reason for Jpeg corruption
Generation Bad sector in the hard drive
Operating system corruption
Frequent Power surges
At times, the Photo fails to open in any of the JPEG decoder. In other cases, you may notice gray areas or lines in your image. In addition, there are a few more signs of image corruption often supported by some error messages as mentioned below.
This document may be damaged (the file may be truncated or incomplete)
No Preview Available
Can't read file header! Unknown file format or file not found!
Could not complete your request because an unknown or invalid JPEG marker type is found
Error Code 0x8001008
Important marker missing
Can't determine type
Delphi Error message error #50, error #51, error #53 etc.
Stellar Phoenix JPEG REPAIR uses a proprietary algorithm to restore scan segment errors in JPEG files. This Photo repair software scans the corrupt image and restores both the main image and the corresponding thumbnail. You can even choose to extract only the thumbnail part of your image using this software. The competent tool gives you the Fixed JPEG file in no time preserving all of its original properties such as visual fidelity, size, resolution, etc.
Some more Features of Jpeg Repair Software
User friendly interface
Well-suited with Windows 10, 8.1, 8, 7, Vista, XP as well as latest MAC OS X El Capitan
Rectifies internal file structure correction
Fast, efficient  and easy to use
Besides the inherent support for a wide range of image, audio, and video file formats, the software can effectively work on high-capacity drives providing up to 2 TB of data storage. You can also choose to add more file formats for recovery and scale the software to fit your varied needs.
This corrupt or broken Photo repair tool has a knack of fixing corruption in multiple JPEG files simultaneously. This proves to be a life savior for those who deal with tens of thousands of JPEG files each day. The software enables you to preview images and their thumbnails in the main interface. You can use this feature to check the image quality of recovered files before saving them to the system.
Stellar Phoenix Photo Repair tool works for all instances of JPEG file corruption including corrupt header, damaged or broken JPEG data, and damage to the JPEG file structure. It also supports recovery on both internal (hard drives) and external (memory sticks and camera cards) storage devices.
Note: This software only repairs corrupt and damaged digital JPEG files. Once the photos are deleted, this software cannot recover it.
How to prevent and minimize the corruption of Jpeg files.
Formatting the memory card occasionally is a good practice
Proper eject the device after use before plugging out the device connected to the PC
Avoid any interruption/power failure during a file transfer operation from memory card to PC and proper eject the memory card.
Store your cards properly in a same place
Using multiple cards of small capacity rather than using one card of large capacity to minimize the loss.