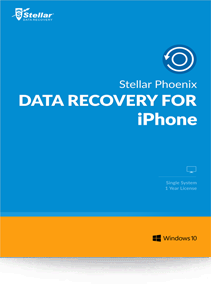 iPhone Data


Recovery Software

Key Features

Equipped with notable features, this iPhone data recovery software recovers all your lost or deleted data from iOS devices such as iPhone and iPad, as well as from iTunes and iCloud backup files in an effective manner. The following are the notable features of the software:
Recovers All Data from iOS Devices
This iPhone data recovery software can recover all deleted and lost data from the iOS devices such as iPhone and iPad, and iTunes and iCloud back up files. It possesses the capability to recover Contacts, Message Attachments, Calendar, Notes, Call History, Notes Attachments, Reminder, Video Memo, Camera Roll, Photo Stream, Voice Memo, Safari Bookmarks, WhatsApp messages along with attachments, and Apps Library from your iOS device.
Retrieves your Deleted Messages
With Stellar Phoenix Data Recovery for iPhone software, you can retrieve all your lost or deleted Messages along with their attachments from your iPhone and backup files of iTunes and iCloud. The advanced scanning mechanism and powerful algorithms assist in recovering all the Messages, be it personal or business-related, without any discrepancy. Once all your Messages are retrieved, you can save them at a preferred location.
Recovers iCloud & iTunes Backup Data
If any of your iCloud or iTunes backup files gets lost or deleted, you can leverage the software to recover the data and restore it back to your device. The software runs the recovery process in the least possible time and ensures that every single bit of information is restored from the multimedia data that the iCloud and iTunes stores. The software has enhanced graphical user interface that helps in recovering deleted data from iTunes and iCloud backup files.
Recovers Encrypted iTunes Backup Data
The encrypted iTunes backup file can get inaccessible either due to data loss, deletion, or several other known and unknown reasons. The iPhone Recovery software possesses the ability to recover data from lost or deleted iTunes backup files that are encrypted. The latest version of the software bypasses encryption of the encrypted iTunes backup files and permits you to access all inaccessible data stored in them. Irrespective of the level of encryption, the recovery does not require you to possess any technical expertise.
Retrieves and Saves All Deleted Contacts
Possessing a large storage ability, the iOS-based iPhone as well as the iTunes and iCloud backup files can store a number of contact details, almost unlimited. However, at times, one or more contact details may get deleted accidentally. The iPhone data recovery software by Stellar can retrieve all your lost or deleted data from your iPhone, iCloud and iPhone backup, and can be saved in file formats such as VCF, CSV, and HTML. Also, the software can save the multitude attributes assigned to the contacts in HTML file formats.
Recovers Complete Call History
The iPhone Recovery software by Stellar not only recovers the saved contact details that you either lost or deleted accidentally or becomes inaccessible, but also has the capability to recover your lost or deleted call history. Thus, at times when your call history is lost due to phone restoration or accidental deletion, it should be run to regain the lost or deleted call-log. Finally, the call history is retrieved and displayed in a categorized manner.
Recovers Bookmarks from Safari Browser
Safari is the default web browser on iPhone, and hence the most widely used on iPhones running iOS. Almost all iPhone users leverage this browsing tool for browsing as well as bookmarking important websites that they visit frequently so as to access information quickly. However, there are times when all the bookmarks may get lost or deleted. Such situations are a major loss of information and require immediate recovery. With Stellar Phoenix Data Recovery for iPhone, you can easily retrieve all bookmarks from your Safari browser.
Recovers Lost and Deleted Notes
The iPhone data recovery software can recover lost or accidentally deleted Notes from your iOS running devices such as your iPhone, and iTunes and iCloud backup files. It can also retrieve large sized iOS Notes along with inserted photos that were deleted from your iPhone. The software runs an algorithm to scan for deleted 'Notes' as well as attachments of Notes, and lists them all in the preview pane.
Supports iPad, iPod, and iPhone
The iPhone Data Recovery software supports multiple iDevices for recovery, such as iPad, iPod, and iPhone. iPhone X, 8 Plus, 8, 7 Plus, 7, 6 Plus, 6, 5s, 5c, 5, 4s and 4, iTunes version 12.x, 11.x, and iOS versions 11.x, 10.x, 9.x, 8.x, 7.x, 6.x - are all supported by the software. This support for all iDevices makes the software more scalable. Plus, as the same software works with all Apple devices, you would not be required to invest in multiple data recovery software.
Available in Windows & Mac variants
The software is available in two variants - Windows operating system and Mac OS. The supported Windows OS are versions 10, 8.1, 8, 7, Vista, XP, Windows Server 2008 and 2003, whereas the supported Mac OS are macOS High Sierra 10.13, 10.12, 10.11 & lower versions. Therefore, this makes the software highly compatible.