Recover Deleted or Inaccessible Photos from Corrupt USB Drive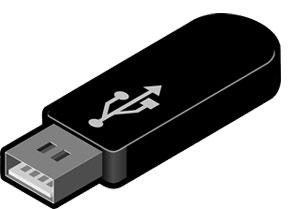 September 26, 2014
Today, USB drives are used to store and transfer some of the most important data including photos. It is the most common device used to transfer data like photos from one system to another. As a result, it is often handled casually by most of the users. In addition, because of its portability and ease of use, most of the users often forget to use it safely while transferring photos. Such kind of mishandling of the USB devices like USB flash drive, USB external hard drive, and USB pen drive results in loss of data like photos.
In such a situation, it becomes very important to restore lost or deleted pictures from the USB drive. However, one might think of any possibility of recovering deleted photos and other data from USB drive. To restore images from USB flash drive is not an impossible process. This can be done by using any professional photo recovery software. Stellar Photo Recovery is a professional tool to recover deleted photos and other multimedia files from Windows as well as Mac based systems.
Recover Lost/deleted Photos from USB
USB, like any other storage device has a certain mechanism of storing data like photos, audios, videos, etc. However, unlike hard drives they do not have any mechanical component involved, which reduces the risk of failure. In addition, to its portability and the capacity to store huge volumes of data makes it the most commonly used devices to store and transfer data. However, such devices can fail, resulting in photo loss because of any of the following reasons.
Accidental deletion of the photos
Formatting of the USB device
Sudden power failure
Virus infection
Physical damage done to the USB device
There could be many more reasons photo loss. However, the best solution is to use a professional software like Stellar Photo Recovery. Once downloaded, the software can be easily used because of its self-explanatory interface to carry out various recovery operations.
Steps to initiate the photo recovery process from USB drive
Launch 'Stellar Photo Recovery' software.
Click on the button, which says 'Recover Photo, Audio & Videos' to retrieve photos from the USB drive as shown below.
Select the USB drive listed under the 'Physical Drive' option as shown below.
Note: It is recommended to insert the USB drive in the computer before launching this software. In case the USB drive is not listed, click the 'Refresh Drive' button.
Click 'Scan Now'.
All the photos are listed under the Photos category.
You can select one or more photos and click 'Scan Now'. This would take you to a page where you can preview the photos before saving as shown below.
Select files for recovery and click 'Recover'.
Choose a desired location to save the retrieved files.

Tips before Recovering
In case of physical damage or any logical damage, keep the device at a safe location to avoid any further loss.
Choose a professional photo recovery software.